Win Nascar Tix; Picture Contest; Grand Prize: Tickets To The Races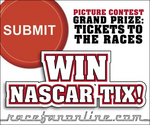 (PRWEB) October 18, 2005 -- Racefanonline.com, your number one source for race fan pictures, videos and stories is sponsoring a picture contest. One lucky winner will win 2 tickets to the race of their choice among the 36 scheduled races. All you have to do to enter is to submit a digital picture on the website.
It is so simple even Tony Stewart's monkey Mojo could enter to win.
Step 1: Submit a digital picture of your favorite Nascar race day moment at
http://www.racefanonline.com/S/index.php
The first 500 submitters will receive a free racefanonline.com gift.
Step 2: Visit our site to see if your picture was selected as a daily favorite. Also feel free to make comments and tell us which pictures are your favorites. Racefanonline will select a daily favorite every day until the contest deadline.
Step 3: Racefanonline.com will select our favorite picture from all of the daily favorites, taking into account comments from our visitors.
Step 4: Racefanonline.com will post the winning picture and contact the winner to arrange for the grand prize: two tickets to the 2006 race of your choice.
Notes: In order to receive your submission gift, remember to fill in your address on the submission page.
Feel free to enter as many times as you like.
Absolutely no submissions after November 30th will be considered for the contest.
About RF Online, LLC:In August 2004, one of our co-founders attended a Nextel Cup Race at Watkins Glen in upstate New York. He returned to New York City a fanatic! As a result of this new interest, he started to scour the web for racing related content. Specifically, he was trying to recapture the excitement of actually being at the race track. He was very surprised to find that most of the content on the web was focused on statistics as opposed to his favorite part, the fans and the culture of race day.
In order to rectify this "tragedy", Rich (the aforementioned co-founder) and Steve (the just mentioned other co-founder) decided to build a website where race fans could share their experiences online.
This site is a sidelight for both of us. Neither of us are web developers or men of leisure. We've asked our friends, relatives, associates and anyone else to help us in this labor of love. We are sharing this site with you but you are also helping us make it interesting and compelling for others to come and visit and share their experiences with us.