George W Bush Potty Break Doll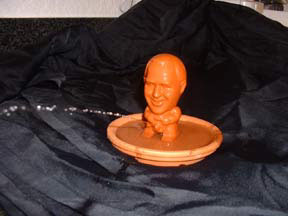 (PRWEB) October 11, 2005 -- Pottyheadz, makers of clay novelty toy figurines and gag gifts is excited to present the newest member of the pottyheads family, the 43rd President of the United States George Walker Bush. The Pottyhead Bush clay figure is crafted from portraits of the president and pays great attention and detail to capturing the truly unique personality and great sense of humor of our President.
The true to life quality of the sculpture makes it a unique, one of a kind gift idea or political memorabilia collectible for Democrats. They also work well as gag or prank ideas for your Republican friends and co-workers who enjoy a good natured joke.
Whatever their political leanings, red, blue, conservative or liberal, pundits from both parties can equally enjoy the non-partisan political satire that is Pottyheadz Bush. Pottyheadz Bush is made of natural baked clay and can be used both indoors and outdoors. Like all Pottyheadz products, this figurine can be soaked in water to absorb liquid in its hollow center. When hot water is poured over the toy, the anatomically correct Pottyhead Bush action figure will squirt out and pee pee water for up to 2 feet mimicking the effects of real urination.
Pottyheads Bush figurines make fun novelty decorations for personal or office desktops, bookshelves, dashboards, patios, and small flower gardens. These clay sculptures can also be fully painted and customized making them excellent gift ideas for arts and crafts enthusiasts. PottyHeadz currently offers 4 other figures including a boy, pig, adult, and businessman.
Not to be outdone by Dubya, a Pottyheads Bill Clinton figurine is currently in development for later this year. Pottyheadz figurines can be purchased directly from
http://www.pottyheadz.com/
for $9.99.
The Pottyhead Posse